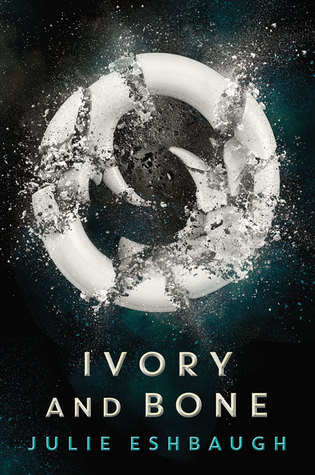 Series: Ivory and Bone #1
Authors: Julie Eshbaugh
Release date: June 7, 2016
Summary: Hunting, gathering, and keeping his family safe--that's the life seventeen-year-oild Kol knows. Then bold, enigmatic Mya arrives from the south with her family, and Kol is captivated. He wants her to like and trust him, but any hopes of impressing her are ruined when he makes a careless--and nearly grave--mistake. However, there's something more to Mya's cool disdain...a history wrought with loss that comes to light when another clan arrives. With them is Lo, an enemy of Mya's past who Mya swears has ulterior motives.
As Kol gets to know Lo, tensions between Mya and Lo escalate ujntil violence erupts. Faced with shattering losses, Kol is forced to question every person he's trusted. One thing is for sure: this was a war that Mya or Lo--Kol doesn't know which--had been planning all along.
Thoughts: I've followed Julie Eshbaugh on Pub(lishing) Crawl for a long time, and so I've been waiting for this book for a long time. I've known about it for what seems like a few years, and it's finally coming out this summer! And it sounds very intriguing, and unlike anything I've read before!
Tell me: what are YOU waiting on this Wednesday? Does my choice sound interesting to you? Let me know in the comments below!