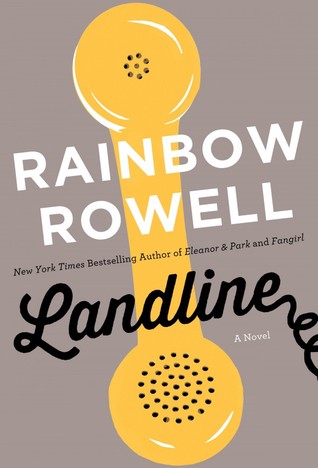 Title:
Landline
Author:
Rainbow Rowell
Published date:
July 8th, 2014
Summary:
Georgie McCool knows her marriage is in trouble. That it's been in trouble for a long time. She still loves her husband, Neal, and Neal still loves her, deeply -- but that almost seems beside the point now.
Maybe that was always beside the point.
Two days before they're supposed to visit Neal's family in Omaha for Christmas, Georgie tells Neal that she can't go. She's a TV writer, and something's come up on her show; she has to stay in Los Angeles. She knows that Neal will be upset with her -- Neal is always a little upset with Georgie -- but she doesn't expect him to pack up the kids and go home without her.
When her husband and the kids leave for the airport, Georgie wonders if she's finally done it. If she's ruined everything.
That night, Georgie discovers a way to communicate with Neal in the past. It's not time travel, not exactly, but she feels like she's been given an opportunity to fix her marriage before it starts...
Is that what she's supposed to do?
Or would Georgie and Neal be better off if their marriage never happened?
Why I read it:
I have been hearing great things about Rainbow Rowell for the last year, so for Christmas, I got both
Eleanor and Park
and
Fangirl
. I read both of them this spring and absolutely LOVED them both, so when her newest adult book came out this summer, I knew I had to get it. I actually took a break from
Hollow City
to read this one, and stayed up until 4 in the morning to finish it.
Thoughts:
Rainbow Rowell is quickly becoming one of my favorite contemporary authors. Her books are always well-written and entertaining, while still dealing with different issues and personalities. I adore her.
Landline
just confirmed this love.
Rowell's writing style is so distinctive, often employing several parentheticals in a row, or flashbacks within flashbacks. It's a tribute to her talent, then, that I was never confused as to what or
when
I was reading. I always knew what was going on within the context of the story.
Speaking of the story, I was entertained from page one. We begin, in the very first chapter, with Georgie telling Neal she can't make it to Omaha for Christmas. We are thrown into the story with very little background for their relationship, but Rowell so easily paints both the tension
and
ease between Georgie and Neal. It's obvious they love each other, but also have some issues that cannot be fixed by a quick argument and a makeup kiss. From here, the story evolves.
The magic phone actually plays less of a role in the story than I thought it would, but I was okay with that. The real heart of the story is about present Georgie and present Neal, and the magic phone only serves to enhance that relationship.
The characters were my favorite part of the book. Our heroine, Georgie McCool, is so relatable. She seems so cool on the outside, often appearing like the coolest person at parties, while feeling nervous and anxious on the inside. Neal is complicated and sometimes unlikable, but he has his redeeming moments that make him totally swoon-worthy. Georgie's mother is hilarious; I can totally imagine her in real life, with her obsession with her pugs and dressing younger than she should. Georgie's sister, Heather, is so refreshing for her sarcasm and wit, but also her own insecurities that Georgie helps her begin to overcome.
My absolute FAVORITE character, though, is Seth. Seth has been Georgie's writing partner and best friend for almost twenty years, and their relationship shows it. Every conversation and interaction between the two of them was pure gold. I would gladly read a book all about Seth. I want a Seth of my very own.
I would absolutely recommend this book, especially if you've read and liked any of Rowell's previous books!
Rating:
5/5 stars