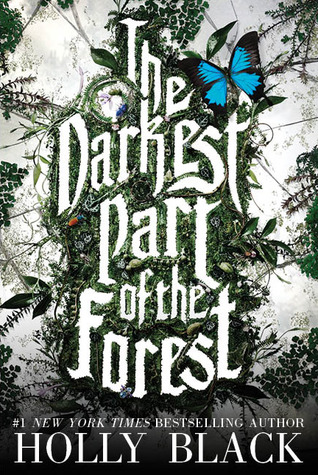 Title:
The Darkest Part of the Forest
Author:
Holly Black
Summary:
Children can have a cruel, absolute sense of justice. Children can kill a monster and feel quite proud of themselves. A girl can look at her brother and believe they're destined to be a knight and a bard who battle evil. She can believe she's found the thing she's been made for.
Hazel lives with her brother, Ben, in the strange town of Fairfold where humans and fae exist side by side. The faeries' seemingly harmless magic attracts tourists, but Hazel knows how dangerous they can b, and she knows how to stop them. Or she did, once.
At the center of it all, there is a glass coffin in the woods. It rests right on the ground and in it sleeps a boy with horns on his head and ears as pointed as knives. Hazel and Ben were both in love with him as children. The boy has slept there for generations, never waking.
Until one day, he does...
As the world turns upside down, Hazel tries to remember her years pretending to be a knight. But swept up in new love, shifting loyalties, and the fresh sting of betrayal, will it be enough?
Why I read it:
I was looking for another standalone to finish off March, but I didn't want to read another contemporary. This was one of the most recent books I'd bought, so I grabbed it!
Thoughts:
LOVE.
This is the first Holly Black book I've ever read, so I wasn't sure what her writing style was going to be like, but I absolutely loved it. The writing is lyrical and beautiful, and unexpectedly emotional. In the beginning, during exposition, the narration wandered a bit. Things would be happening and the narrator would start thinking about something else, which would then make her think of something else, until her thoughts finally ended up back in the present. At first it was a little bit confusing, but it didn't take long to get used to. I ended up liking the almost stream of aspect.
The characters are fantastic. Every character is fully fleshed out, and I was shipping characters left and right from the very beginning. Hazel is so strong, and I love that
she
is the warrior instead of her brother, Ben. But Ben is pretty amazing, too. I loved him so much, and his crush on the horned boy is so perfect. Having a gay character in an urban fantasy YA was so refreshing.
The secondary characters are fantastic as well, such as the horned boy and Ben's best friend, Jack. Even characters who are mentioned in passing early in the book are brought up again at some point, often playing a significant part in the plot. I like this attention to detail; the idea that no one is insignificant.
I've read quite a few books with fairies or faeries or fae in them, but this one managed to be completely different. The folklore and mythology behind the fae is so intriguing, and some of it definitely felt familiar. Especially the Alderking. (Erlkonig, anyone? Since I'm a vocal music person, it was great to see that come up! Let me geek out a bit.)
This book twists and turns and I was constantly wondering what was going to happen next. There were so many plot points that I never guessed, but they worked perfectly. I
really
appreciate that this is a standalone fantasy, and everything is wrapped up by the end.
I highly recommend this to everyone, whether you're a diehard Holly Black fan or a newbie like me! Especially if you like books about fae.
Rating:
5/5 stars
Tell me: have YOU read this book yet? What were your thoughts? Let me know in the comments below!