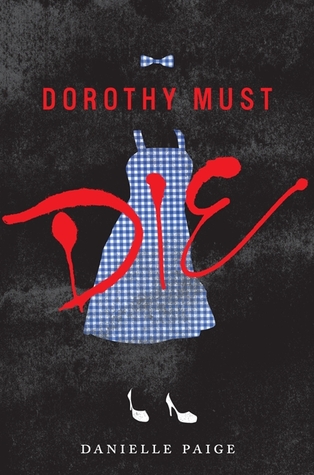 Title:
Dorothy Must Die
Author:
Danielle Paige
Series:
Dorothy Must Die #1
Summary:
I didn't ask for any of this. I didn't ask to be some kind of hero.
But when your whole life gets swept up by a tornado--taking you with it--you have no choice but to go along, you know?
Sure I've read the books. I've seen the movies. I know the song about the rainbow and the happy little bluebirds. But I never expected Oz to look like this. To be a place where Good Witches can't be trusted, Wicked Witches may just be the good guys, and winged monkeys can be executed for acts of rebellion. There's still a yellow brick road--but even that's crumbling.
What happened? Dorothy.
They say she found a way to come back to Oz. They say she seized power and the power went to her head. And now no one is safe.
My name is Amy Gumm--and I'm the other girl from Kansas.
I've been recruited by the Revolutionary Order of the Wicked.
I've been trained to fight.
And I have a mission.
Why I read it:
This was my jar pick for the month, and I thought,
How perfect!
The sequel was coming out at the end of the month, so it was a perfect time to get to this!
Thoughts:
I know there have been some mixed opinions on this book, so I was pleasantly surprised to find that I thoroughly enjoyed it!
I really love the main character, Amy Gumm. She's a trailer-park girl from Kansas with an absent dad and a lackluster mom, and she's got pink hair to boot. But what I
really
love about Amy is that even though she's had a rough life and she's definitely a strong female character, she isn't mean or overly sarcastic. And that's what makes her interactions with everything Oz so special.
We have a large ensemble of characters here, all of which fall into two categories: ones that were in the original L. Frank Baum books, or ones that have been imagined by Danielle Paige.
All of the L. Frank Baum characters are twisted in delightful ways, either for good or for bad. I won't get into the "how's" and "why's" for fear of spoilers, but it is so much fun to meet each character and see how Paige has changed them for her story, or to catch small mentions of minor characters from the originals.
The characters Paige has created fit perfectly into the world of Oz and its topsy-turvy feel. Nox quickly turned into a favorite character for me (and a swoon-worthy one, at that!) Grandma Gert and Glamora (Glinda's twin sister) are also two of my favorite characters.
That's the thing about this book. I have
so
many
favorite characters because Paige is so good at writing them. None of them are purely good or purely evil; they all exist in that morally gray area that I just love.
The setting is mostly the Oz we all know and love, so it's recognizable and doesn't require too much explanation, but with some extra fun thrown in!
The plot is so intriguing, as well. I was constantly wanting to turn the page, find out what happens next, because the plot twists just kept coming! And that ending? I did NOT see that coming!
My only problem with this book is that it drags in a few places, and there are a few times where things are over-explained, telling rather than showing. But other than that, I'd say this is a
very
solid debut from Paige and I can't wait to read more!
Rating:
4/5 stars
Tell me: have YOU read Dorothy Must Die yet? If so, what were your thoughts? Let me know in the comments below!