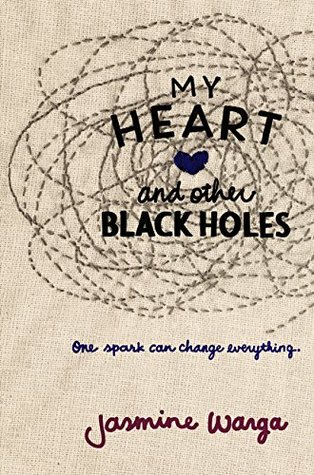 Title:
My Heart and Other Black Holes
Author:
Jasmine Warga
Summary:
Sixteen-year-old physics nerd Aysel is obsessed with plotting her own death. With a mother who can barely look at her without wincing, classmates who whisper behind her back, and a father whose violent crime rocked her small town, Aysel is ready to turn her potential energy into nothingness.
There's only one problem: she's not sure she has the courage to do it alone. But once she discovers a website with a section called Suicide Partners, Aysel's convinced she's found her solution: a teen boy with the username FrozenRobot (aka Roman) who's haunted by a family tragedy is looking for a partner.
Even though Aysel and Roman have nothing in common, they slowly start to fill in each other's broken lives. But as their suicide pact becomes more concrete, Aysel begins to question whether she really wants to go through with it. Ultimately, she must choose between wanting to die or trying to convince Roman to live so they can discover the potential of their energy together. Except that Roman may not be so easy to convince.
Why I read it:
I've heard great things about this book and I'm very interested in books that revolve around suicide for some reason. And since so many of them came out this winter/spring, I've been collecting them. I just needed a fairly short contemporary to read after
Allegiant
and
Dorothy Must Die
. Also, this is Jasmine Warga's debut novel, and the last debut I read the year it was released was
Something Strange and Deadly
back in 2012. Crazy!
Thoughts:
I've literally been sitting here for twenty minutes, trying to put my feelings into words.
I really,
really
liked this book.
I loved Aysel (pronounced "Uh-zell"). Even though this is a book about depression and suicide, Aysel often shows a great sense of humor and self-awareness. She's also unique; her parents are Turkish, though she admittedly doesn't know much of her own culture. She's so realistic and a great protagonist.
I loved Roman, too, for different reasons. He's also realistic, and he can be very hot and cold, which I appreciated. I loved the approach to his character and his very real problems.
I loved the buildup and relationship between Aysel and Roman. It's not rushed at all, and it never feels forced, either. They begin as acquaintances and it just builds from there.
The ending was realistic, too. Without going into spoilers, I'm glad that Jasmine Warga didn't manufacture a fake, Hollywood-type ending for our characters.
This book hurts. It deals with depression and suicide and family and loss. But it's shot through with humor and lightness and hope. One of my favorite parts of this book is how it deals with family. Both Aysel and Roman have issues they have to work out through relationships with their family, and it's nice to see that aspect explored in a YA book.
And I cried. So, there's always that.
I highly recommend this book, especially to anyone who is dealing with or knows someone who is dealing with depression and/or suicidal thoughts.
Rating:
4/5 stars
Tell me: have YOU read this book yet? What were your thoughts? Let me know in the comments below!