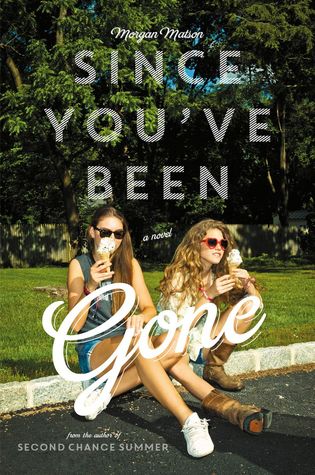 Title:
Since You've Been Gone
Author:
Morgan Matson
Summary:
It was Sloane
who yanked Emily out of her shell and made life 100% interesting. But right before what should have been the most epic summer, Sloane just...disappears. All she leaves behind is a to-do list.
On it, thirteen Sloane-inspired tasks that Emily would normally never try. But what if they could bring her best friend back?
Apple picking at night?
Okay, easy enough.
Dance until dawn?
Sure. Why not?
Kiss a stranger?
Um...
Emily now has this unexpected summer, and the help of Frank Porter (
totally
unexpected), to check things off Sloane's list. Who knows what she'll find?
Go skinny-dipping?
Wait...what?
Why I read it:
I've heard SO many things good things about all three of Morgan Matson's books, so I've wanted to read it for a long time. Then I ended up reading it during RYBSAT!
Thoughts:
Oh, how I fell in love with this book.
Emily and Sloane are the typical YA best friends, in which one is the outgoing, fun one, and the other is a bit more shy and reserved unless they're together. But it doesn't feel overly cliched, because Emily is fully rounded out. She may be shy without Sloane, but her interactions with her family and the people she meets over the summer feel so realistic, so relatable. There was never a moment that I felt was out of place.
Speaking of her family, I loved the moments we got with Emily's brother, Beckett. He has a penchant for heights and climbing, and I love that the ten-year-old got to be just as quirky as the rest of the characters, like Frank and Collins. I loved Frank and Collins so much; they're both so adorable and funny, and I loved the relationships that Emily developed with both of them.
I loved the concept of the list, and slowly finding out what some of them meant. Each item on the list that Emily is meant to complete has some kind of meaning to her, and some directly relate to her fears and overcoming them. And I loved seeing the process of her ticking things off the list.
The way the novel is set up is pretty cool, too. Each chapter is titled for one of the items on the list, so you know that is the thing she's going to complete. But in some chapters, Emily sets out to do something completely different, and it's fun to see how the title is going to come into play. In the beginning, when Emily is still scared and hesitant about the list, the chapters are longer because it takes her longer to finish one thing. But as the book goes on, the chapters get shorter, and I liked seeing that development.
The writing is fantastic. It made me feel like I was right there with those characters I loved. I could easily see the town that they lived in, and all the places they visited. And the relationships that develop so realistically over the course of the summer.
One of my favorite aspects is the inclusion of the playlists. Both Emily and Frank listen to their iPods during their runs, and it was fun to see the kind of music both of them listened to. It definitely added to their characterization. Plus, it gives me more music to look into for my own listening enjoyment!
Best of all, this book is made of feels. Some of them were warm, and I definitely laughed out loud at parts. But others made my heart ache, and I cried as well. These are my favorite kinds of books. Ones whose plots keep you engaged, but takes you on an emotional journey as well.
I just loved this book, and can't wait to read more by Morgan Matson. In fact, after I read this book, I almost immediately ordered
Amy and Roger's Epic Detour
from Barnes & Noble so I could take it on vacation with me, and it'll be the first book I crack open on Saturday when I leave!
Rating:
5/5 stars
Tell me: have YOU read Since You've Been Gone yet? What were your thoughts? Let me know in the comments below!