Title:
True
Author:
Hilary Duff
Series:
Elixir #3
Why I read it:
To finish another series! And for #RYBSAT.
Thoughts:
Meh. I had all the problems with this book as I did with the first two books in the series. This is written by "Hilary Duff with Elise Allen," so you would have thought the writing would be better. The writing is so juvenile and stuffed with adjectives that really don't need to be there. There was a single sentence in this book that struck me as nicely phrased: "There's no sign, and the entrance all but disappears among the succulents." Though if we're being totally honest, it's probably because I love the word "succulents." The characters here are completely one-dimensional; I don't think any of the four main characters made any real growth throughout the series. As if Clea's narration wasn't bad enough, we're also given chapters in Rayna's POV as well. Those were worse. I couldn't stand Rayna's voice.
And finally, my biggest pet peeve? The necklace on the cover was a big deal in the first two books and it was a symbol of Clea and Sage's love (or something like that). I don't even think it was MENTIONED in this entire book. Boo.
Rating:
1/5 stars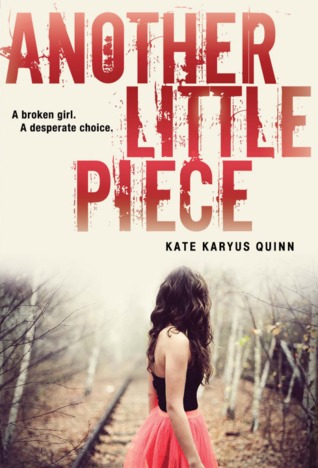 Title:
Another Little Piece
Author:
Kate Karyus Quinn
Summary:
On a cool autumn night, Annaliese Rose Gordon stumbled out of the woods and into a high school party. She was screaming. Drenched in blood. Then she vanished.
A year later, Annaliese is found wandering down a road hundreds of miles away. She doesn't know who she is. She doesn't know how she got there. She only knows one thing: She is not the real Annaliese Rose Gordon.
Now Annaliese is haunted by strange visions and broken memories. Memories of a reckless, desperate wish...a bloody razor...and the faces of other girls who disappeared. Piece by piece, Annaliese's fractured memories come together to reveal a violent endless cycle that she will never escape--unless she can unlock the twisted secrets of her past.
Why I read it:
#RYBSAT!
Thoughts:
I thoroughly enjoyed this! I can't say much without going into spoilers, but our main character is fascinating. The way she interacts with everyone around her, without remembering them from before, is very interesting. All side characters are fleshed out and intriguing, especially Dex. How I loved Dex. Cute guys that talk too much are completely my jam. The plot keeps you guessing up until the very last few pages, and it's written very unconventionally, which I always love. There are poems and a couple of letters that almost mark chapter breaks, though they're not labelled thusly. And within each "chapter," the narration is further broken into sections. There were a few times those breaks were confusing because it might have taken a little time to figure out where/when we were, since there were flashbacks and such, but it never got to the point where it completely took me out of the story.
Often, this book reminded me a bit of the Mara Dyer series by Michelle Hodkin, so if you were a fan of that trilogy, I would definitely recommend you pick this book up, as well!
Rating:
4/5 stars
Title:
Austenland
Author:
Shannon Hale
Summary:
Jane is a young New York woman who can never seem to find the right man--perhaps because of her secret obsession with Mr. Darcy, as played by Colin Firth in the BBC adaptation of
Pride and Prejudice.
When a wealthy relative bequeaths her a trip to an English resort catering to Austen-obsessed women, however, Jane's fantasies of meeting the perfect Regency-era gentleman suddenly become more real than she ever could have imagined. Is this total immersion in a fake Austenland enough to make Jane kick the Austen obsession for good, or could all her dreams actually culminate in a Mr. Darcy of her own?
Why I read it:
When participating in a read-a-thon like Bout of Books 13, short books for the win!
Thoughts:
I thoroughly enjoyed this, though I still may prefer the movie. (Don't shoot me!) Our heroine, Jane, is so much fun. There are times when she seems very lost and anxious, but the best times are when she finds her stride and embraces the snarky and bold side of herself. When she banters with Mr. Nobley, I just adored her. The other characters are fun as well, though not as well-drawn as Jane and Mr. Nobley. I must say, however, that since I've seen the movie before I read the book, I easily pictured the movie cast as the book characters. For the most part, it's a very cute, fun book!
Rating:
4/5 stars
Tell me: have YOU read any of these books? What were your thoughts? Let me know in the comments below!