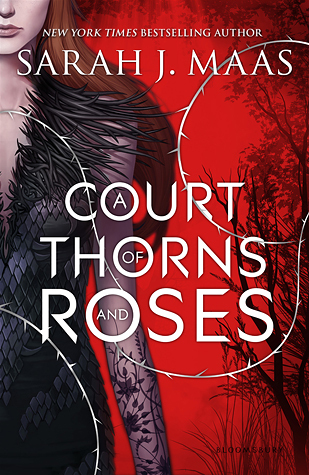 Title:
A Court of Thorns and Roses
Author:
Sarah J. Maas
Series:
A Court of Thorns and Roses #1
Summary:
When nineteen-year-old huntress Feyre kills a wolf int he woods, a beast-like creature arrives to demand retribution for it. Dragged to a treacherous magical land she only knows about from legends, Feyre discovers that her captor is not an animal, but Tamlin--one of the lethal, immortal faeries who once ruled their world.
As she dwells on his estate, her feelings for Tamlin transform from icy hostility into a fiery passion that burns through every lie and warning she's been told about the beautiful, dangerous world of the Fae. But an ancient, wicked shadow grows over the faerie lands, and Feyre must find a way to stop it...or doom Tamlin--and his world--forever.
Why I read it:
Sarah J. Maas. DUH. I actually got to meet her the week of its release! (As you probably already know. I still haven't shut up about it.) So I decided to read it to start off the Bout of Books 13 read-a-thon!
Thoughts:
HOLY COW. NEW FAVORITE.
First of all, the characters. Feyre is such a great protagonist, because she is NOT perfect. She makes mistakes and she's quick to judge everyone around her. But she's only human, and I love the flaws in her character. Every relationship she has with the other characters develops throughout the book; there is nothing stagnant here. Dynamics shift and perspectives change, so how she sees Tamlin, Rhysand, and even her sisters, is different from the beginning to the end.
Speaking of Tamlin and Rhys, and adding in Lucien, how delightful are these High Fae? Between the Throne of Glass series and now this series, Sarah J. Maas really is excellent at giving us swoon-worthy male characters. Tamlin is all golden sunshine and fierce loyalty, and Rhys is all mystery and darkness, and Lucien is all sarcasm and protectiveness. I love all three of them for very different reasons. Tamlin is the obvious love interest, Rhys is the dark horse, and Lucien is the male best friend (the role of which I'm very fond of, as you know).
Once you've read this book, let the shipping wars commence! I know what side I'm on already. I love Tamlin, but I'm Team Rhys all the way!
Do I even need to mention the writing? This is a Sarah J. Maas book,
of course
I loved the writing. That's silly.
This is a
Beauty and the Beast
retelling, but it's also woven in with elements from
Tam-Lin
and
East of the Sun, West of the Moon
. Beauty and the Beast is a very well-known fairy tale, so that is the one everyone mentions when talking about this book, but I've heard very few people talk about the other aspects. It's easy to tell how
Beauty
is reimagined for the story. There certain scenes pulled directly from the tale and slightly reworked to fit, and other things are simply alluded to. But what I love the most is how well the elements from the other two fairy tales are used to fill out the story. It's incredibly well done.
The last quarter of the book is where things start to shift away from
Beauty and the Beast
and into other territories, and it is one hell of a ride. Once again, I'm amazed by how Sarah J. Maas managed to pull me in from page one and keep me there until the very last page.
PLUS, it's technically a new adult series, which makes it my official first new adult book! Feyre is nineteen, and there are some steamy times. Part of the reason I've stayed away from new adult is that most of them sound the same. They're all contemporary books with a girl and a guy getting into a relationship with a lot of a sex, and often the girl is a shy virgin and the guy is aggressive and I just don't like to read about those kinds of relationships very often.
ACOTAR, on the other hand, avoids those tropes entirely. And I hope that this represents a shift in the way we can view new adult. Hopefully it ushers in a new era of new adult that includes fantasy and paranormal and real, meaty plots. Because some of us want the steamy times without the relationship drama and dark pasts!
Whoa, went on mini-rant there. Rant over!
I highly recommend this book, especially if you're a fan of fantasy and steamy romance.
Rating:
5/5 stars
Tell me: have YOU read ACOTAR yet? What were your thoughts? Let me know in the comments below!