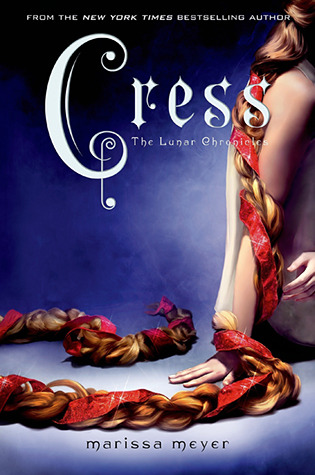 Title:
Cress
Author: Marissa Meyer
Series: Lunar Chronicles #3
Why I read it: Duh.
Thoughts: This is the best book yet in the series.
Once again, we get a new main character and perspective, based on another fairy tale with a sci-fi twist. Cress is the Lunar Chronicles counterpart to Rapunzel, and boy is she adorable.
Cress is a sweet, shy girl who has lived on a satellite nearly all her life. Since both Cinder and Scarlet are more hard-headed and cynical about the world, it's refreshing to see the world from Cress's eyes, since she is rather naive about certain things in life. She also has a HUGE crush on Captain Thorne, which is just precious, especially considering what a sarcastic, yet lovable scallywag he is.
We also meet Jacin Clay, one of the Lunar guards. I won't talk about him a lot, but I think it's safe to say we'll get to learn much more about him in the last book.
Every interaction that Cress has with another character is golden, but especially her scenes with Thorne. It's adorable how much she adores him, and it's wonderful seeing their relationship progress.
Again, I have to commend Meyer's skill at crafting believable relationships. There is no insta-love between Thorne and Cress (well, except on Cress's part), and the relationships from the first two books are still building and evolving. It's one reason that Winter, the fourth book, is my most anticipated book of 2015. Because I can't wait to see how all these relationships turn out.
Can I take a moment to praise the character naming skills of Meyer, as well? Cress, shortened for watercress, is a type of lettuce. As is Rapunzel. Meyer actually spoke about how she named Cress in a guest blog post, where she admitted that she initially called the character "Arugula" before realizing exactly how ridiculous that was. And Carswell Thorne? That name also has great connections to the original fairy tale.
The original fairy tale is also masterfully weaved into the plot, and it's fun to pick out all of those parts and how they're reworked for the sci-fi setting.
I have to admit: I cried while reading this book, which I did not expect. But if you get as attached to characters as I do, you may well cry over their plights, too.
This may be Cress's book, but Cinder and Scarlet's stories certainly aren't over yet. They have a long way to go still, and I can't wait to find out how it all ends in Winter!
Rating: 5/5 stars
Tell me: have YOU read Cress yet? If so, what were your thoughts? Let me know in the comments below!