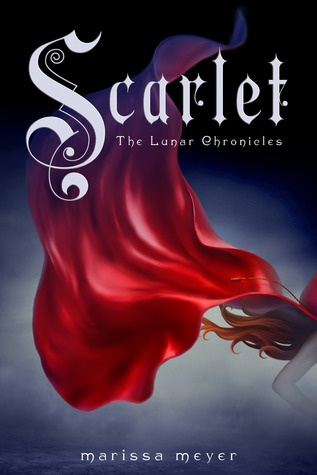 Title:
Scarlet
Author:
Marissa Meyer
Series:
Lunar Chronicles #2
Why I read it:
Obviously, because I loved the first book,
Cinder
, which you can read my review of by clicking here! I had planned on reading something else after
Cinder
, but I just couldn't wait to continue the series, so I immediately picked up
Scarlet
!
Thoughts:
I adored this second installment in the series.
With all the events from the end of the first books, the overarching plot for the whole series really starts to rev into gear in
Scarlet
. Without going into too much detail (for fear of SPOILING you), I really enjoyed where the series is going. While
Cinder
was stuck within the Eastern Commonwealth, we get to see more of the world in
Scarlet.
We're introduced to a few new main characters, and all of them are wonderful. We have Scarlet, the Lunar Chronicles counterpart to Red Riding Hood, and this book's main character. Marissa Meyer has a knack for writing fantastic female protagonists, as both Cinder and Scarlet show. While Cinder is sweet and misunderstood and hesitant to draw attention to herself, Scarlet is bold and brave and often stubborn to a fault. Meyer's characters are always well-developed, with both strengths and flaws in everyone.
Our next new character is Wolf. And as I'm sure you already guessed, he is Scarlet's love interest. And he is my kind of man. He's the strong, silent type. A bad boy with a heart of gold. Oh yes, he is just delightful. And I will leave it at that.
And last, but CERTAINLY not least is the illustrious Captain Carswell Thorne, Cinder's newest companion. Carswell is handsome (and knows it), overly confident and extremely irreverent. He is certainly the comic relief in the story, as even in the face of danger, he most often still has a witty one-liner to deliver. I have to say that Thorne had to grow on me, but by the end of the book, he had me.
I appreciate the fact that even though this is Scarlet's story, we still get Cinder's perspective, and it doesn't feel contrived. It still feels like Cinder has a major story arc to live through, so she deserves some of the screen time. We also get some Prince Kai time, which I absolutely enjoyed. Though Prince Kai is now Emperor Kai, and trying to keep the Lunars at bay takes up much of his time, he still spares a thought for Cinder now and then. The tension between how they feel about each other, and their inability to admit it to even themselves is fabulous. Once again, I love Meyer's ability to let that romantic tension build and build, even when the two characters don't even interact.
Once I started this book, I didn't want to put it down again. I read it in just a few days, and IMMEDIATELY picked up
Cress
, which I will be reviewing next! If you haven't picked up this series yet, what are you waiting for?
Rating:
5/5 stars
Tell me: if you have read Scarlet, what were YOUR thoughts on this second book? Let me know in the comments below!