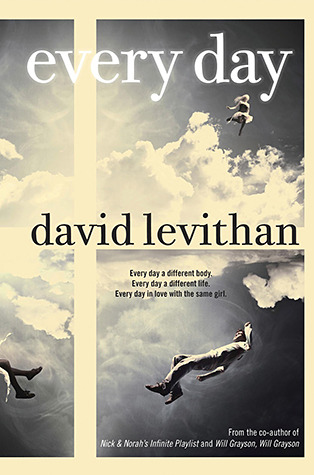 Title:
Every Day
Author:
David Levithan
Summary:
Every day a different body. Ever day a different life. Every day in love with the same girl.
There's never any warning about where it will be or who it ill be. A has made peace with that, even established guidelines by which to live: Never get too attached. Avoid being noticed. Do not interfere.
It's all fine until the morning that A waes up in the body of Justin and mets Justin's girlfriend, Rhiannon. From that moment, the rules by which A has been livng no longer apply. Because finally A has found someone he wants to be with--day in, day out, day after day.
Why I read it:
I've heard great things about David Levithan, and I've had quite a few of his books on my TBR for a long time. So when I found this book on Book Outlet, it was such a steal that I couldn't resist! Then I was in between TBR books last month, so I picked a book out of my TBR jar, and this is what came up!
Thoughts:
I thoroughly enjoyed this book. It is not one of those books that will have you on the edge of your seat, but it is a book that will make you think a lot.
A, our narrator, is a captivating character. They think of themselves as genderless, which makes this review really hard to write. A's view on the world is refreshing, and I loved seeing through their eyes every day when they would wake up in a different body. Sometimes even more than the Rhiannon/love plotline, I enjoyed reading about each person that A would inhabit for a day.
That being said, Rhiannon is also interesting. I wanted to root for her and A, but sometimes she is selfish and closed-minded. When A shows up to see Rhiannon in a girl's body, Rhiannon finds it much more difficult to see past the body to the person underneath, to see A. Even when A is in a less attractive male body, she has a hard time with it. It made me think a
lot.
Would I be like Rhiannon, unable to see past the body? I think we'd all like to say "no," that's it the person inside that matters. But while personality is a huge factor in attraction and compatibility, physical attraction is also important. So while I
know
that I would more like Rhiannon than I care to admit, it still made me less sympathetic towards her since we were seeing everything from A's perspective.
I really enjoyed being able to see every aspect of A's life, and there were a couple of plot threads left hanging at the end, so I'm relieved that there will be a sequel of sorts next year,
Another Day
, this time from Rhiannon's POV.
There were times that the writing felt a little draggy, but for the more part, it kept me enthralled. It wasn't a perfect book, but a solid one. And I really enjoyed Levithan's writing, so I'm excited to pick up more of his work in the future!
Rating:
4 out of 5 stars
Tell me: have YOU read this book? What did you think of it? Let me know in the comments below!