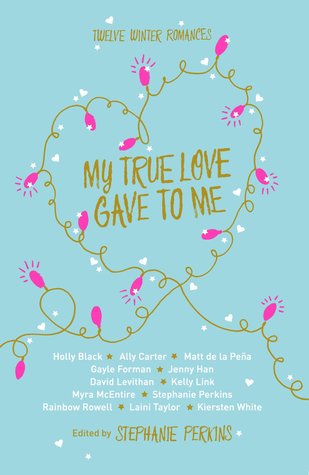 Title:
My True Love Gave to Me: Twelve Holiday Romances
Authors:
Holly Black, Ally Carter, Matt de la Peña, Gayle Forman, Jenny Han, David Levithan, Kelly Link, Myra McEntire, Stephanie Perkins (editor), Rainbow Rowell, Laini Taylor and Kiersten White
Summary:
On the first day of Christmas, my true love gave to me... This beautiful collection features twelve gorgeously romantic stories set during the festive period, by some of the most talented and exciting YA authors writing today. The stories are filled wit the magic of first love and the magic of the holidays.
Why I read it:
Take a look at that list of authors. Why
wouldn't
I read it? It gave me a chance to read more from some authors I love, as well as try out some new authors that I haven't read yet. Plus, it was Christmastime, so it was perfect! I read one story a day leading up to Christmas Eve.
Thoughts:
Since this is an anthology of twelve short stories, I will talk about and rate each one individually!
Midnights by Rainbow Rowell
Rating: 5/5 stars
I adored this first story! This marks the fourth time I've read Rainbow Rowell this year, and she did not disappoint. This story is adorable, with just the right amount of tension and, for lack of a better word, angst. What a way to start the collection, because I would compare all the rest to how much I loved this one.
The Lady and the Fox by Kelly Link
Rating: 1/5 stars
This one was a clunker for me, sadly. Especially in its unfortunate place immediately follow Rainbow Rowell. It was intriguing at first, but the writing style wasn't my favorite. Our main character was fine, but everyone around her was boring and one-dimensional. And then the ending was just completely crazy and ridiculous. It felt like there was so much left unexplained, and not in a good way. Probably my least favorite of the bunch.
Angels in the Snow by Matt de la Peña
Rating: 4/5 stars
I actually really enjoyed this one. I've never read anything by Matt de la
Peña, but I immediately took a liking to his writing. It's beautiful, but simple. I adored these two characters, and the romance between them was very believable, which I appreciated. What a cute ending, too!
Polaris is Where You'll Find Me by Jenny Han
Rating: 3/5
This was cute and very unique. I loved the whole concept of a human girl living at the North Pole, and Jenny Han's take on Christmas elves was super cool. However, being the shortest in the collection left me wanting a little more, especially being left on a cliffhanger that belonged in an indie romcom. It was cute, but not my favorite.
It's a Yuletide Miracle, Charlie Brown by Stephanie Perkins
Rating: 5/5 stars
Oh, Stephanie Perkins. You never let me down, do you? This was SO ADORABLE. I loved the banter between our two leads (and what a fabulous name is North for a guy?!) Really, I'll read anything that Stephanie Perkins writes, so it should come as no shock that this instantly became one of my favorites.
Your Temporary Santa by David Levithan
Rating: 2/5 stars
Just coming off two books by David Levithan that I really enjoyed, I was expecting to enjoy this one, too. I did appreciate the inclusion of an LGBT story in the collection. However, the subtitle to the collection is "Twelve Holiday Romances." And this story barely had any romance in it. I did enjoy part of this, but it didn't have nearly enough love for me, when that was what I was expecting.
Krampuslauf by Holly Black
Rating: 1/5 stars
I've heard so many amazing things about Holly Black, and I may still pick up one of her books to see if I like it, but this short story did absolutely nothing for me. The beginning was interesting, but the rest of the story fell flat. There was a lot of talk and no action during the middle, and I didn't ever fully connect with the characters. I also didn't feel a ton of love from the very brief romance at the end.
What the Hell Have You Done, Sophie Roth? by Gayle Forman
Rating: 5/5 stars
I loved this one, too! I absolutely adored the characters, and Gayle Forman's writing is always on point. Once again, dialogue was a highlight of the story for me, because personalities of characters really shined through with their words. Adorable. Loved!
Beer Buckets and Baby Jesus by Myra McEntire
Rating: 2/5 stars
It was okay. The characters were middling, the story didn't keep me very invested, and the dialogue was forgettable. This is probably the story I remember the least. Though I do remember it is set in Tennessee. I guess points for Tennessee.
Welcome to Christmas, CA by Kiersten White
Rating: 5/5 stars
This is my first Kiersten White venture, and oh my goodness, did I love it. I often have problems with short stories because I feel like I want more, that there's still more to the story. Not the case with this one. It
really
felt like a complete story to me. I didn't feel like I was missing any information at the beginning, nor did I feel like I was being cheated on a too-short ending. It was perfect. And it was the first story to make me cry. So kudos to Kiersten White, and I'll DEFINITELY be picking up more of her books!
Star of Bethlehem by Ally Carter
Rating: 4/5 stars
I love Ally Carter. I really do. This story was intriguing from the beginning, even though the main character annoyed me a bit. And part of that definitely stemmed from them mystery of her identity. But I really enjoyed this one. The singing bit on Christmas Eve definitely made me tear up again, too.
The Girl Who Woke the Dreamer by Laini Taylor
Rating: 4/5 stars
I didn't know what to think of this one at first. This was the only story that I really had trouble with deciding on a rating. At first, it took me a long time to get into the story, partly because it seemed like a major information dump. Two or three pages of background would be described, and then our main character would resume her actions from before, so it was a little confusing every once in a while. But once we got into the meat of the story, I really enjoyed it. It seems Laini Taylor has a definite knack for fantasy lore, which makes me even more excited to read her series!
Overall, I really enjoyed reading this anthology. There were definitely stories I liked better than others, but that's part of the fun in anthologies. I would still definitely recommend this to anyone who likes romance, the holidays and short stories!
Overall rating:
3.5/5 stars
Tell me: have YOU read this holiday anthology yet? What did you think about it? Let me know in the comments below!