*WARNING: Minor spoilers for Wolves of Mercy Falls trilogy ahead!*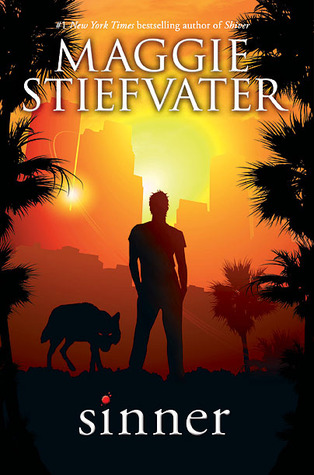 Title:
Sinner
Author:
Maggie Stiefvater
Series:
Wolves of Mercy Falls #3.5
Summary:
Everybody thinks they know Cole's story. Stardom. Addiction. Downfall. Disappearance. But only a few people know Cole's darkest secret--his ability to shift into a wolf. One of these people is Isabel. t one point, they may have even loved each other. But that feels like a lifetime ago. Now Cole is back. Back in the spotlight. Back in the danger zone. Back in Isabel's life. Can this sinner be saved?
Why I read it:
I just marathoned the Wolves of Mercy Falls trilogy in October/November, so I was ready to get back to that world at the end of November and finish out the series with this companion novel. And Cole St. Clair is my favorite character in the series.
Thoughts:
If you've read my
review
of the original trilogy, you'll know that it wasn't my favorite series. I enjoyed it, but I had several problems with it. But I decided to read
Sinner
anyway.
I was so not disappointed.
First of all, Cole and Isabel. They're my OTP. Seriously, I love them. They're both so sarcastic and sure of themselves, but they're both broken on the inside in some way or another. They're perfect for each other.
Many of the things I disliked about the trilogy (Sam and Grace, the wolf drama, the open endings) were gone from this book. Though Cole is a werewolf, that fact plays a minor part in the book. It is more of a characteristic, a backstory, than an actual plot point. And I appreciated that. And while Sam and Grace make a couple of small (voice) cameos, they play no part in the plot, either. And this ending is very definite. And it was wonderful.
Other things I originally disliked were just different enough in this book that it didn't bother me. I
hated
Sam's songwriting in the original, because he would just spout of with several lines at a time out of nowhere. In
Sinner
, however, Cole's songwriting on the spot consists of short phrases that he writes in a notebook for later inspiration. It felt much more believable.
Mostly, I just loved this book because I got exactly what I wanted out of it. It is not the best book in the world. It is not mind-blowing or life-changing in any way. But I wanted a book about Cole and Isabel, and that's what I got. It's not about the wolf drama or some overarching plot. It's just about Cole and Isabel and their relationship. And I loved every second of it.
Rating
: 4.75/5 stars