Title:
Where She Went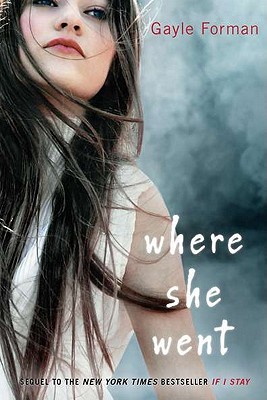 Author:
Gayle Forman
Series:
If I Stay #2
Published Date:
April 5, 2011
Thoughts:
In the interest of being spoiler-free, I won't post the summary, and I'll try to discuss this in the abstract. I posted my review for the first book,
If I Stay
, a couple of weeks ago, and gave it 4 out of 5 stars. I had high hopes for the sequel, and I wasn't disappointed. I enjoyed it so much, even much more than the first.
Where She Went
is written from Adam's POV. In all honesty, I found it much more refreshing and intriguing that Mia's POV in
If I Stay
. Adam's personality is multi-faceted, and almost more well-drawn than Mia's, though I do still love Mia. The present day and flashback alternating chapters work in the sequel almost better than the first. And I love the character development throughout. Overall, I loved
Where She Went
, and I'm so glad I picked up this duology.
Rating
: 4.5/5 stars.
Bonus:
Here's the trailer for
If I Stay
, releasing to theaters on August 22nd!
Title:
A Monster Calls
Author:
Patrick Ness
Published date:
September 27, 2011
Summary:
At seven minutes past midnight, thirteen-year-old Conor wakes to find a monster outside his bedroom window. But it isn't the monster Conor's been expecting--he's been expecting the one from his nightmare, the nightmare he's had nearly every night since his mother started her treatments. The monster in his backyard is different. It's ancient. And wild. And it wants something from Conor. Something terrible and dangerous. It wants the truth. From the final idea of award-winning author Siobhan Dowd--whose premature death from cancer prevented her from writing it herself--Patrick Ness has spun a haunting and darkly funny novel of mischief, loss and monsters both real and imagined.
Thoughts: I picked up this book because I'd heard really great things about it, as well as the author, Patrick Ness. This novel is a fairly short read, enhanced by the fact that many pages are edged by beautiful black-and-white illustrations. Some illustrations even dominate entire pairs of pages, but each picture ties directly into the events of the story. The writing is equally beautiful, as I've heard of Ness in general, and it evokes the dark, somewhat foreboding tone of the novel, though there are moments of humor. Conor is a nuanced character, and the minor characters are richly drawn, even the characters we see for only a few pages. Early on, it is obvious what the central conflict of the story is, and though I guessed the content of the nightmare early on, there were more revelations to be had. And by the last twenty pages or so, I was crying as I finished the book. This is a book that can appeal to anyone, whether a regular reader of YA or not. I absolutely loved it, and am looking forward to picking up Patrick Ness's other books.