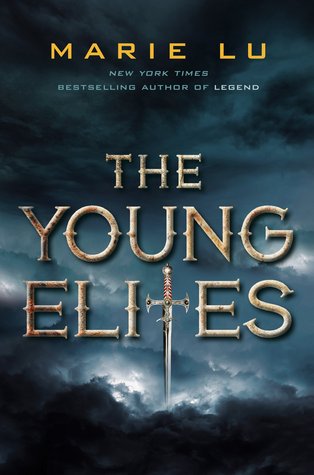 Title:
The Young Elites
Author: Marie Lu
Series: The Young Elites #1
Summary: I am tired of being used, hurt, and cast aside.
Adelina Amouteru is a survivor of the blood fever. A decade ago, the deadly illness swept through her nation. Most of the infected perished, while many of the children who survived were left with strange markings. Adelina's black hair turned silver, her lashes went pale, and now she has only a jagged scar where her left eye once was. Her cruel father believes she is a malfetto, an abomination, ruining their family's good name and standing in the way of their fortune. But some of the fever's survivors are rumored to possess more than just scars--they are believed to have mysterious and powerful gifts, and though their identities remain secret, they have come to be called the Young Elites.
Teren Santoro works for the king. As Leader of the Inquisition Axis, it is his job to seek out the Young Elites, to destroy them before they destroy the nation. He believes the Young Elites to be dangerous and vengeful, but it's Terren who may possess the darkest secret of all.
Enzo Vlenciano is a member of the Dagger Society. This secret sect of Young Elites seeks out others like them beefore the Inquisition Axis can. But when the Daggers find Adelina, they discover someone with powers like they've never seen.
Adelina wants to believe Enzo is on her side, and that Teren is the true enemy. But the lives of these three will collide in unexpected ways, as each fights a very different and personal battle. But of one thing they are all certain: Adelina has abilities that shouldn't belong in this world. A vengeful blackness in her heart. And a desire to destroy all who dare to cross her.
It is my turn to use. My turn to hurt.
Why I read it:
I absolutely adored Marie Lu's Legend trilogy. I marathoned all three at the end of February and into March, and just couldn't put them down.
Champion
made me cry. So I fell in love Marie Lu's writing and when I heard she had a new fantasy series beginning this year, I did a little happy dance and featured it on a Waiting on Wednesday
post
a couple months ago. Then I won an ARC copy from a blog giveaway and got the opportunity to read it before it comes out!
Thoughts: I finished this last week and had to take a few days to really process my thoughts on this book. Usually I know my rating for a book immediately when I finish it, but I really needed to sort through my feelings on The Young Elites before I rated and reviewed it.
That said, I think I loved it.
Our main character, Adelina, is one of the most complicated characters I've ever read, especially as a main POV character. She has been through hell in her sixteen years, so her dark tendencies and sometimes morbid fantasies are often understandable. And though Adelina does terrible things in this book, she remains, if not relatable, at least empathetic the entire time. Marie Lu has explained The Young Elites as almost a villain origin story, and having read the book, I totally understand where she is coming from now.
The other characters are similarly gray morally. Certain characters are easier to love than others, but they are all complex and intriguing. Enzo and Teren obviously play huge roles in the story, but other characters make just as much impact. Raffaele, for example, is such a mystery. He quickly became one of my favorite characters, but by the end of the novel, it's obvious that there is more to him than we have even seen yet. The other Daggers and Adelina's sister, Violetta, round out this marvelous cast.
The writing, as expected, was beautiful. Lu takes inspiration from Renaissance-era Italy for her Adelina's country of Kennetra, and it makes for such a rich, beautiful setting, and the bits of fantasy woven in really stand out. The baliras were one of my favorite small details, because they sound SO COOL.
There is only one thing that really bothered me about the book, and it's something small that doesn't diminish my affection for the book. Most of the book is written in first-person POV from Adelina's perspective. But every once in a while, we get a chapter from Enzo, Raffaele, or Teren's POV, but they are written in third-person so that Adelina can remain the only first-person POV. While I understand the choice, it is a bit distracting because if we are meant to be in Adelina's head the entire time, we shouldn't have access to these scenes and/or thoughts in the first place. And honestly, many of these scenes seemed extraneous anyway, with the information gleaned during these chapters being revealed to Adelina again later. I think it would have had more impact if we had learned this information along with Adelina later on, rather than knowing it before her.
Other than that, I loved this book, and I think the series has the potential to get even better in the second and third books!
This book releases TOMORROW, 10/7/14, so definitely go pick it up and give this new fantasy series a shot!
Rating: 4.5 out of 5 stars
Tell me: do YOU plan on picking up The Young Elites? And if you read the Legend trilogy, what did you think? Let me know in the comments below!