*WARNING: HERE BE SPOILERS for books 1 and 2*
Proceed at your own peril.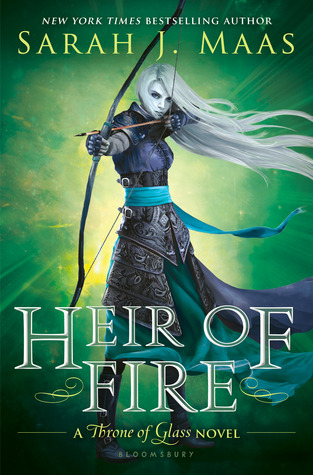 Title:
Heir of Fire
Author:
Sarah J. Maas
Series:
Throne of Glass #3
Summary:
Lost and broken, Celaena Sardothien's only thought is to avenge the savage death of her dearest friend: as the King of Adarlan's Assassin, she is bound to serve this tyrant, but he will pay for what he did. Any hope Celaena has of destroying the king lies in answers to be found in Wendlyn. Sacrificing his future, Chaol, the Captain of the King's Guard, has sent Celaena there to protect her, but her darkest demons lay in that same place. If she can overcome them, she will be Adarlan's biggest threat--and his own toughest enemy.
While Celaena learns of her true destiny, and the eyes of Erilea are on Wendlyn, a brutal and beastly force is preparing to take to the skies. Will Celaena find the strength not only to win her own battles, but to fight a war that could pit her loyalties to her own people against those she has grown to love?
Why I read it:
Are you kidding me? You're joking, right? IT'S A THRONE OF GLASS NOVEL. Of course, I'm going to read it. I HAVE TO KNOW WHAT'S HAPPENING.
My thoughts:
OH MY GOD. Seriously, it's really hard for me to put my feelings for this series into words. It is the sole reason I really got into YA epic fantasy. I've always loved dystopian, sci-fi, paranormal stories, but for some reason, I had never really read much high fantasy before
Throne of Glass
. And it was a total awakening.
Now remember, this review is going to be TOTALLY spoiler-y for the first two books in the series. There's really no other way. But I will not be spoiling HoF for you. Onward!
As usual, I just adored this book. Sarah J. Maas may not have the most lyrical of prose, but she weaves the most intriguing and emotionally complex stories I've ever read. Her characters are so well-developed, and the plot lines are complex and layered. I am never bored reading a Sarah J. Maas book.
We find Celaena in Wendlyn, where she is still grieving over Nehemia's death (and Chaol's role in it.) She journeys to meet with her Fae aunt Maeve, whom she believes has the answers to the problem of the wyrdkeys. Her journey in this book is all about finding herself again, and reconnecting to the Fae part of her that she has long suppressed since she was Aelin, a child and princess of Terrasen. And she has a new acquaintance to help her do it.
Rowan, a Fae warrior who is distant cousins with Celaena, is tasked with training Celaena. Rowan is all growls and bared teeth, and I absolutely love him. He matches Celaena like no one else, and the dynamic between them is a palpable chemistry, albeit not a romantic one. I SUPER appreciate the fact that Rowan is not presented as a new love interest for Celaena.
Back in Adarlan, we are also following two more plotlines. First, the story taking place in Rifthold is told by Chaol, Dorian and two new POV characters, Sorscha and Aedion. Sorscha is a young healer in the castle who is in love with Dorian, and Aedion is Aelin's cousin who is now a general in the King's army.
Sorscha was the one POV I really didn't care much for. Honestly, she never seemed that important to the plot and the few times we were in her head were not all that interesting. I'm hoping, with the events that happened at the end of the book, that we will see her significance more in the next book, but she is still one of my least favorite characters in the series.
Aedion, on the other hand, is deliciously complex. I can't say too much without giving things away, but suffice it to say that I loved his character development throughout the novel.
I obviously still love Chaol and Dorian. (And I still totally ship Chaolena. Just sayin'.) Chaol must decide where his true loyalties lie, and Dorian must come to terms with his understanding and control over his newfound magic.
And finally, we have the last storyline, and my absolute favorite new character. Manon Blackbeak is an Ironteeth Witch of the Blackbeak clan, and she is FABULOUS. The Ironteeth Witches are called to the Ferian Gap to train to become a new army for the King, by taking to the sky on wyverns. After Celaena, Manon may be my favorite character of the whole series. If you've read the book, you know exactly how fantastic she really is.
It's really hard to do reviews for middle books in series. But if you take anything away from this review, just know that this book is amazing. The series just gets better and better as it goes, and if it continues this way, then the sixth and last book may just be the death of me.
Rating:
5 out of 5 stars (if I could give it more, I would.)
Tell me: have YOU read Heir of Fire yet? If so, let me know in the comments below what your thoughts are and who your favorite new character is!