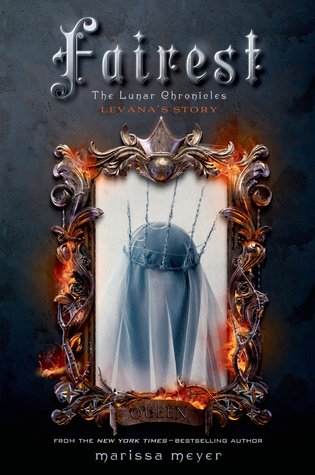 Title:
Fairest
Author:
Marissa Meyer
Series:
Lunar Chronicles #0.5
Summary:
Mirror, mirror on the wall,
Who is the fairest of them all?
Fans of the Lunar Chronicles know Queen Levana as a ruler who uses her "glamour" to gain power. But long before she crossed paths with Cinder, Scarlet, and Cress, Levana lived a very different story--a story that has never been told...until now.
Why I read it:
Do I really need to explain? I needed to know Levana's backstory, and I needed something to hold me over until
Winter!
Although I still don't think this helped much on that front, because it's still so far away!
Thoughts:
I loved the novella.
I almost expected Queen Levana to become a little more sympathetic and understandable through this prequel. And I'm happy to report that while I did gain quite a bit of understanding as to Levana's history and her motivations, she remains quite the villain and I love Marissa Meyer for it.
I'd rather not talk too much about the plot, in the interest of avoiding spoilers for both the book and the first three books in the series. Suffice it to say, I was intrigued the whole way through, and it was fun seeing the origin of many things we've already seen in
Cinder
,
Scarlet
, and
Cress
.
The writing, as usual, was phenomenal. It's disconcerting to be in Levana's head, but also fascinating. The characters are fleshed out, even in this short format.
Also, this book includes the first
THREE
chapters of
Winter
! When I saw that, I could barely contain myself. So once I finished Levana's story, I dove right into that beginning, and it definitely whet my whistle, and made me even that much more excited for
Winter
.
Basically, if you're a fan of the Lunar Chronicles at all, this prequel installment really shouldn't be missed or skipped. Pick it up before
Winter
, and be ready to finish the series with all the knowledge you need.
Rating:
5/5 stars
Tell me: have YOU read Fairest yet? If so, what were your thoughts? How excited are you for Winter?!? Let me know in the comments below!