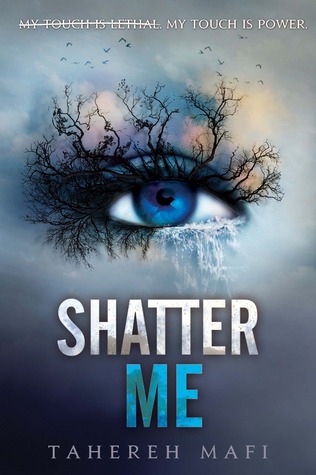 Title:
Shatter Me
Author:
Tahereh Mafi
Series:
Shatter Me #1
Summary:
Juliette hasn't touched anyone in exactly 264 days.
The last time she did, it was an accident, but The Reestablishment locked her up for murder. No one knows why Juliette's touch is fatal. As long as she doesn't hurt anyone else, no one really cares. The world is too busy crumbling to pieces to pay attention to a 17-year-old girl. Diseases are destroying the population, food is hard to find, birds don't fly anymore, and the clouds are the wrong color.
The Reestablishment said their way was the only way to fix things, so they threw Juliette in a cell. Now so many people are dead tht the survivors are whispering war--and The Reestablishment has changed its mind. Maybe Juliette is more than a tortured soul stuffed into a poisonous body. Maybe she's exactly what they need right now.
Juliette has to make a choice: Be a weapon. Or be a warrior.
Why I read it:
I have heard SO many things about this series. Back when this book was first released, I never gave it much thought because I
loathed
the original cover. But in 2014, when everyone was finishing the series and raving about it, I started taking notice again. The new covers were gorgeous, everyone seemed to love it, and it just sounded so intriguing. So I asked for the series for Christmas, and started this book the day after!
Thoughts:
Wow. I totally see why this series had everyone totally obsessed. Because I am, too.
I know a lot of people tire of dystopian series, but Ii love them. And this is definitely cream of the crop as far as dystopian goes. The world-building here is subtle, but powerful.
Our narrator Juliette is broken, and the way Tahereh Mafi shows that is just brilliant. She's a scared girl whose touch kills, and she doesn't know why. She's been mistreated all her life. Tell a girl she's a monster enough and she starts to believe it. When the story starts, she's been isolated from the world in an institution for the better part of a year, and the solitude has taken its toll.
Since the book is told from 1st-person present POV, we are constantly in Juliette's head, seeing how her mind works. And a big part of this is seeing thoughts that are struck-through. I know that this is a turn-off to many people thinking about reading this series, but I think it's a brilliant story-telling technique. Juliette's thoughts are rambling, beautiful, poetic tangents, and the strikethroughs only enhance the fact that she's a little bit crazy, or at least she thinks she is. And since she hasn't had anyone to talk to, she's had time to come up with some beautiful, provocative insights into the world. Some of my favorite writing I've read in a long time.
We also have Warner, who as the villain of the story, is a military general of The Reestablishment. Warner is definitely one of the most complex villains I've ever read. Every interaction he had with Juliette vs. everyone else was so fascinating, and I couldn't wait to learn more about him in the rest of the series.
Adam is less interesting, but he's still a great love interest for Juliette. He is exactly what she needs: sweet, caring and protective, and for now that's perfect.
My only complaint with this first book is that the beginning was a little bit slow. But around halfway through the book, the action really began to pick up and I couldn't put it down anymore. I immediately continued with the series after I finished this, and marathoned all the way through! So check back through the next week or so for my reviews of the rest of the series!
Rating:
4.5/5 stars
Tell me: have YOU read Shatter Me? What were your thoughts? Let me know in the comments below!