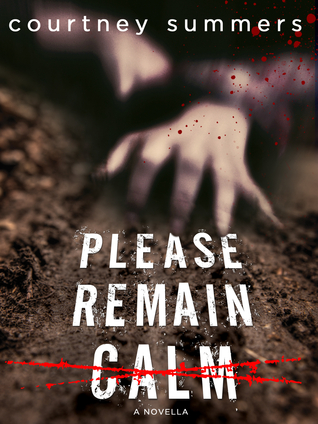 Title:
Please Remain Calm
Author:
Courtney Summers
Series:
This is Not a Test #2
Why I read it:
This is Not a Test
was on my top books I read in 2014 list. Seriously, if you haven't read it yet, what are you waiting for? If you love dark contemporaries and/or zombies, go read it right now. One of the most beautiful, heartbreaking books I've ever read. You can read my gushing review here. So when the e-novella sequel came out, I immediately downloaded it...and then chickened out of reading it. I had to psych myself up for a couple of days before I was brave enough to read it through in one sitting. (Also on an unrelated note: Courtney is a marshmallow, and is totally the reason I started watching
Veronica Mars
. So if you haven't started that yet, either, GO DO IT. One of my new favorite shows.) (This may be the longest paragraph I've ever written for the "Why I read it" section...)
Thoughts:
For as long as my "Why I read it" section is, this may be the shortest review I've done so far. I don't want to get into spoiler territory, because really,
This is Not a Test
and
Please Remain Calm
really need to be read to get the full feel of it. The feeling you get after reading these books is not easily explainable via review.
What I will say, is that Courtney Summers truly excels at pulling heart strings. Making you feel like the world is bleak and awful and nothing good, and then providing you a tiny glimmer of hope. And the nine times out of ten, she pulls that glimmer away from you. And you want to scream and cry and rail against the world for doing this to you, but it is one of the most exquisite feelings of heartbreak.
That's what Courtney Summers does. This book is short, and easily digestible in one sitting. In fact, that's how I recommend it. Because you can't stop turning pages, racing to the finish line, desperate to see how it all turns out.
Just like
This is Not a Test, Please Remain Calm
is fast-paced, character driven, and heart-wrenching. Highly recommend. Cannot recommend it enough.
Rating:
5/5 stars
Tell me: have YOU read this e-novella sequel yet? What were your thoughts? Were you as emotionally distraught as I was? Let me know in the comments below!