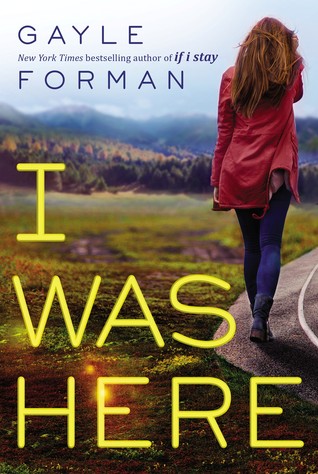 Title
:
I Was Here
Author:
Gayle Forman
Summary:
Cody and Meg were inseparable.
Two peas in a pod.
Until...they weren't anymore.
When here best friend Meg drinks a bottle of industrial-strength cleaner alone in a motel room, Cody is understandably shocked and devastated. She and Meg shared everything--so how was there no warning? But when Cody travels to Meg's college town to pack up the belongings left behind, she discovers that there's a lot that Meg never told her. About her old roommates, the sort of people Cody never would have met in her dead-end small town in Washington. About Ben McAllister, the boy with a guitar and a sneer, who broke Meg's heart. And about an encrypted computer file that Cody can't open--until she does, and suddenly everything Cody thought she knew about her best friend's death gets thrown into question.
Why I read it:
I really enjoyed Gayle Forman's If I Stay duology (reviews of which can be found here and here.) So I received her other duology for Christmas, and then immediately picked this up when it came out. Then in February, I finished
Insurgent
after reading it for almost three weeks. I needed some short books to read at the end of the month to make sure I didn't get into a slump, so I picked this one up!
Thoughts:
I absolutely loved this book. I couldn't put it down and finished it in two days.
All of the characters in this book are so distinct, and I loved all of them. Cody is a strong girl, much stronger than she even thinks she is. I loved her relationship with all of the other characters, and how she slowly lets them in throughout the book. She is "the" best friend to Meg's more outgoing and strong character, but we're shown over and over that Cody is just as strong, which I really appreciated. Too often, the narrator of books like this really
are
weaker than the best friend, but that wasn't the case here.
I loved Meg's roommates: Harry, Stoner Richard and Alice are so unique, both in their personalities and their interactions with Cody, but I loved all three of them.
And then there's Ben. The evolution of his character as Cody gets to know him was spot-on. I loved that he was so far from perfect. He definitely had his moments where I wanted to punch him in the face, but I actually like that kind of character because they're realistic.
I know a lot of people have disliked the romance, but I thought it was perfect. In real life, things get messy and complicated, and this book reflected that. The romance progressed really naturally in my opinion, and I was swooning by the end.
I also cried at the end. This book does a great job of coming full circle and bringing the story to a satisfying conclusion. Yes, it's a sad book, but I think the story began and ended exactly where it needed to.
If you are a contemporary fan, and if you don't mind suicide as a theme, I would highly recommend this standalone, especially if you're a fan of Gayle Forman's other books!
Rating:
5/5 stars