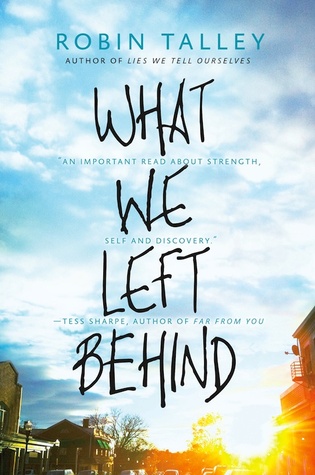 Author: Robin Talley
Release date: October 27, 2015
Summary: Toni and Gretchen are the couple everyone envied in high school. They've been together forever. They never fight. They're deeply, hopelessly in love. When the separate for their first year at college--Ton to Harvard and Gretchen to NYU--they're sure they'll be fine. Where other long-distance relationships have fallen apart, their relationship will surely thrive.
The reality of being apart, however, is a lot different than they expected. As Ton, who identifies as genderqueer, falls in with a group of transgender upperclassmen and immediately finds a sense of belonging that has always been missing, Gretchen struggles to remember who she is outside their relationship.
While Toni worries that Gretchen, who is not trans, just won't understand what is going on, Gretchen begins to wonder where she fits in Toni's life. As distance and Toni's shifting gender identity begins to wear on their relationship, the couple must decide--have they grown apart for good, or is love enough to keep them together?
Thoughts: I am so glad we are getting more and more LGBTQIA+ books out there in the mainstream. I've heard great things about Robin Talley's other book, Lies We Tell Ourselves. I would also like to read that book, but it's a historical fiction novel, which is not usually my favorite genre. But this contemporary sounds much more up my alley, and I think it's especially wonderful that it features a nonbinary protagonist. And on a totally shallow level, that cover is sooo pretty.
Tell me: what are YOU waiting on this Wednesday? Does my choice sound interesting to you? Let me know in the comments below!